Seat Cordoba I WRC2000
Home
»
Rally Cars
» Seat Cordoba I WRC2000
Specifications
Group/Class
A/8
Homologation number: A5586 (13/03 WR)
Years active
2001 - 2002
Homologation start: 1/8/2000
Homologation end: 31/12/2011
Engine
Type
VW R4 EA827, code AFT, straight 4cyl, 4 stroke, petrol engine
located front transverse
Capacity
1995.4 cc
WRC: x 1.7 = 3392.2 cc
Bore x Stroke (mm)
83.0 x 92.2
Compression ratio
8.4:1
Output power - torgue
315 HP / 5300 rpm
53.0 kgm (520 Nm) / 3500 rpm
Main bearings
5 of 54mm diameter
connecting rod length 162.5mm, big end bearing diameter 50.6mm
Materials
block: steel
cylinderhead: cast aluminium
Cams/valves
dual overhead camshaft (DOHC), belt driven
4 valves/cyl. (V at 25o) - 16 valves total
Aspiration
Garrett/Allied Signal TR30R turbocharger (see below) with 34mm turbo restrictor and catalytic converter fitted, Magneti-Marelli Step 9 fuel injection
Ignition
Magneti-Marelli Step 9 electronic, firing order 1-3-4-2
Cooling system
watercooled
Lubrication system
oil cooler
Transmission
Type
four wheel drive
Hewland/Prodrive/Seat 6-speed sequential, electro/hydraulically actuated using an electronic switch (joystick)
Gearbox ratios
1st: 2.923/1 (38/13)
2nd: 2.133/1 (32/15)
3rd: 1.667/1 (30/18)
4th: 1.333/1 (24/18)
5th: 1.083/1 (26/24)
6th: 0.889/1 (27/24)
R: 2.563/1
Diffrential ratio
Front differential 4.583/1 (55/12), all gears combinations from 50 to 65/11, all gears combinations from 50 to 65/12, all gear combinations from 50 to 65/13. Trasfer box 0.393/1 (11/28). Rear differential 2.545/1 (28/11)
helical gears epicycloid spag clutch center differential with active/hydro-electronically controlled transfer box and front differential. Limited slip rear differential. 50%-50% F-R torque distribution
Clutch
dry carbon triple disk
Chassis-body
Type
steel monocoque Typ 6K GP01 chassis of VW A03 platform with roll-cage, front subframe, and rear tubular subframe. 3 door liftback steel bodyshell with steel extended wheel arches, PVC front and rear bumbers and a rear plastic airofoil
Front suspension
mac pherson strut with lower wishbones, coil springs and Öhlins gas shock absorbers, cabin adjustable antiroll bar
Rear suspension
mac pherson strut with lower wishbones, coil springs and Öhlins gas shock absorbers, cabin adjustable antiroll bar
Steering system
rack and pinion
Brakes
ventilated disks all around, from 280 to 390mm front and rear disks diameter, with 2/4/6/8/12 piston calipers
dual circuit with 8" servo
Dimensions
length: 4.172 m (164.3")
width: 1.770 m (69.7")
height: 1.400 m (55.1")
wheelbase: 2.443 m (96.2")
front track: 1.520 m (59.8")
rear track: 1.520 m (59.8")
Rims - tires
tarmac: 8" x 18", gravel: 7" x 15"
Pirelli, tarmac: 225x650/18
Weight
1230 kg
Weight/power
4.1 kg/HP
Fuel tank
Garrett TR30R Turbocharger features
T25 type ball bearing cartridge.
The bearing races are made from M50 material and the retainer from silicon-bronze for high temperature capability.
An air-cooled center housing with turbo speed pickup boss.
Thin wall stainless steel turbine housing with V-Band inlet and outlet and attached with a V-Band.
The turbine housing is shielded with an activated carbon cloth heat shield.
Mar-M 247 turbine wheel material is good up to 1050C/1922F turbine inlet temperature.
The compressor housing is attached to a standard back plate with a V-Band.
Billet 5-axis machined aluminum compressor wheel.
---
Results in WRC
Statistics
2000
2001
2002-2005
2006
Total
Works WRC results
Races
6
5
11
Entries/finishes
14/8
6/1
20/9 (45%)
Others WRC results
Races
1
1
Entries/finishes
1/1
1/1 (100%)
Total WRC results
Races
6
5
1
12
Entries/finishes
14/8
6/1
1/1
21/10 (47.6%)
Total points
11
11
(0.917 per race)
(0.524 per entry)
Races
Works team: Seat Sport
Season
Entry
Rally event
Driver
Codriver
Team
MC
SVE
KEN
POR
ESP
ARG
GRE
N.Z
FIN
CY
TdC
S.R
AUS
RAC
Toni Gardemeister
Paavo Lukander


19

works
mec hani cal
6th
Toni Gardemeister
Paavo Lukander


15

works
acci dent
Toni Gardemeister
Paavo Lukander


17

works
11th
mec hani cal
12th
Didier Auriol
Denis Giraudet


18

works
11th
8th
Didier Auriol
Denis Giraudet


20

works
8th
17th
Didier Auriol
Denis Giraudet


16

works
9th
Didier Auriol
Denis Giraudet


14

works
mec hani cal
Harri Rovanperä
Risto Pietiläinen


15

works
10th
Gwyndaf Evans
Howard Davies


14

works
mec hani cal
Total points
()
11
8
3
Statistics
Works starts/finishes
14/8
2/1
2/0
2/1
2/1
2/2
4/3
---
Source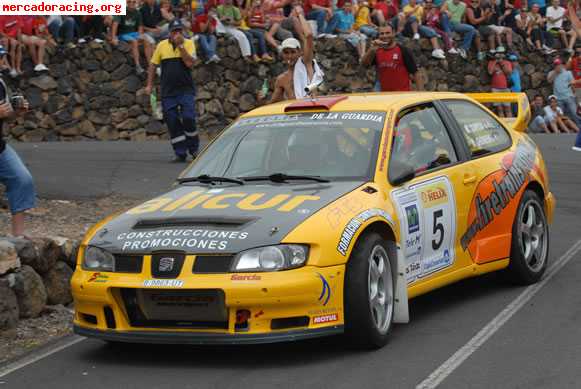 Source
Article from 4T 364, 1/2001
Click here
page revision: 27, last edited:
25 Dec 2019 18:38