Ford Small Block gen. II "Windsor" 289 (1963)
Home » Racing Engines » Ford Windsor 289
Source
Specifications
Ford Small Block gen. II "Windsor" 289 and 289K 'HiPo', V8 (90o), 4 stroke, petrol engine
Introduced in 1963
Click here and here
c
Click here for Mustang
Around 3,500,000 289-2V and 289-4V engines were made at CEP1 in 1963-1967 and 800,000 289-2V at WEP1
About 25,000 K-code 289's were manufactured at CEP1 between March 1963 and June 1967
Dimensions
Cylinders arrangement: V8 with 90º included angle
Strokes: 4
| | | | |
| --- | --- | --- | --- |
| Bore x Stroke | 101.6 x 72.9 mm | 101.7 x 72.9 mm | 101.73 x 72.9 mm |
| Capacity | 4727cc, 289ci | 4736cc, 289ci | 4740cc, 289ci |
Construction materials
cast iron block 208.43 mm deck height, 111.25 mm bore spacing
cast iron head
nodular cast-iron cross plane crankshaft with 5 main bearings 57.15 mm diameter, and 53.92 mm big end journal diameter. Click here and here and here
steel connecting rod with 130.9 mm distance center to center
aluminium alloy piston 41.1 mm compression height
steel inlet valve, stainless steel exhaust valve
Casting numbers
Casting Number Breakdown Charts
Decade of Manufacture:
A = 1940
B = 1950
C = 1960
D = 1970
E = 1980
Year of Decade
The year of the decade is determined by adding a number (0-9) to the letter of
the decade. Example: C6 would be 1966, D0 would be 1970, D1 would be 1971.
Car Line/ Manufacture Codes
A = Galaxie
D = Falcon (60-69)
F = Outside USA, Trans Am racing
G = Comet / Montego
J = Industrial
M = Mercury
O = Fairlane / Torino
P = Autolite / Motorcraft
R = Rotunda
S = Thunderbird
T = Truck
V = Lincoln (61 - current)
Z = Mustang
Engineering Departments
A = Chassis
B = Body
E = Engine
F = Engine accessories
J = Autolite (67-72)
P = Automatic transmission
R = Manual transmission
W = Axle
X = Muscle parts program
Y = Lincoln / Mercury service parts
Z = Ford service parts
Block
All casting numbers are in form of Cxxx-6015(-x)
| Year | Casting number | Notes |
| --- | --- | --- |
| 1963 | C3AE | 2-bolt mains, 5-bolt bellhousing |
| 1963 | C3AE-N, C3OE-B (289K "HiPo") | 2-bolt mains, 5-bolt bellhousing |
| 1963 | C3OE | 2-bolt mains, 5-bolt bellhousing, 2 freeze plugs |
| 1964 | C4AE, C4DE, C4OE | 2-bolt mains, 5-bolt bellhousing |
| 1964 | C4OE-B, C4OE-C, C4OE-F (289K "HiPo") | 2-bolt mains, 5-bolt bellhousing |
| 1965 | C5AE, C5AE-A, C5OE-A, C5OE-C | 2-bolt mains, 6-bolt bellhousing |
| 1965 | C5AE-E (289K "HiPo") | 2-bolt mains, 6-bolt bellhousing |
| 1966 | C6AE, C6AE-C, C6AE-N | 2-bolt mains, 6-bolt bellhousing |
| 1968 | C8AM-B | 2-bolt mains, Service |
Cylinder-head
side camshaft with overhead valves (OHV) and pushrods, chaindriven
2 valves per cylinder - 16 valves total. 20o angle between inlet/exhaust valve axis and vertical, inlet and exhaust valves are parallel. 123.52 mm inlet valve length, 8.69 mm stem diameter
| Year | Casting number | Combustion chamber (cc) | Inlet valve | Inlet port | Exhaust valve | Exhaust port |
| --- | --- | --- | --- | --- | --- | --- |
| 1963 | C3AE-A | 54.5 | 42.4mm (1.67") diameter | | 36.8mm (1.45") diameter | |
| 1963 | C3AE-F | 54.5 | 42.4mm (1.67") diameter | | 36.8mm (1.45") diameter | |
| 1963 | C3OE-E, C3OE-F (289K "HiPo") | 54.5 | 42.4mm (1.67") diameter | | 36.8mm (1.45") diameter | |
| 1963 | C3OE (289K "HiPo") | 49.2 | 42.4mm (1.67") diameter | | 36.8mm (1.45") diameter | |
| 1964 | C4AE, C4AE-C | 49.2 | 42.4mm (1.67") diameter | | 36.8mm (1.45") diameter | |
| 1964 | C4OE-B (289K "HiPo") | 54.5 | 45.2mm (1.78") diameter | square shaped 26.4 x 49.3 | 36.8mm (1.45") diameter | square shaped 25.4 x 31.5 |
| 1965 | C5AE, C5DE-B | 54.5 | 42.4mm (1.67") diameter | | 36.8mm (1.45") diameter | |
| 1965 | C5AE-686, C5AE-B | 49.2 | 42.4mm (1.67") diameter | | 36.8mm (1.45") diameter | |
| 1965 | C5AE-A (289K "HiPo") | 49.2 | 45.2mm (1.78") diameter | | 36.8mm (1.45") diameter | |
| 1965 | C5AE-E, C5OE-A, C5OE-E (289K "HiPo") | 54.5 | 45.2mm (1.78") diameter | square shaped 26.4 x 49.3 | 36.8mm (1.45") diameter | square shaped 25.4 x 31.5 |
| 1966 | C6AE, C6AE-A, C6AE-G, C6OE | 49.2 | 42.4mm (1.67") diameter | | 36.8mm (1.45") diameter | |
| 1966 | C6OE-C, C6OE-E (Smog) | 54.5 | 42.4mm (1.67") diameter | | 36.8mm (1.45") diameter | |
| 1966 | C6OE-M | 54.5 | 42.4mm (1.67") diameter | | 36.8mm (1.45") diameter | |
| 1967 | C7OE (289K "HiPo") | 54.5 | 45.2mm (1.78") diameter | | 36.8mm (1.45") diameter | |
| 1967 | C7OE-A, C7OE-B, C7OZ-B (Smog) | 54.5 | 42.4mm (1.67") diameter | | 36.8mm (1.45") diameter | |
| 1967 | C7OE-C | 54.5 | 42.4mm (1.67") diameter | | 36.8mm (1.45") diameter | |
| 1967 | C7OE-D, C7OZ-A | 49.2 | 42.4mm (1.67") diameter | | 36.8mm (1.45") diameter | |
| 1967 | C7ZE (289K "HiPo") | 54.9 | 45.2mm (1.78") diameter | | 36.8mm (1.45") diameter | |
| 1967 | C7ZE-A (289K "HiPo" Smog) | 54.5 | 42.4mm (1.67") diameter | | 36.8mm (1.45") diameter | |
| 1968 | C8OE, C8OE-D | 63 | 42.4mm (1.67") diameter | | 36.8mm (1.45") diameter | |
| 1968 | C8OE-L, C8OE-M (Smog) | 63 | 42.4mm (1.67") diameter | | 36.8mm (1.45") diameter | |
| 1968 | C8ZE-B (289K "HiPo" Service) | 54.5/54.9 | 45.2mm (1.78") diameter | | 36.8mm (1.45") diameter | |
stainless steel exhaust valves: 37.2/39.37 mm diameter, 129 mm length, 8.66 mm stem diameter
stainless steel exhaust valves: 40.64 mm diameter, 124.7 mm length, 8.66 mm stem diameter
Manganese-Bronze valve's guides, 14.15 mm outer diameter
Aspiration
Natural with:
4 x Weber 48 IDM carburetors
4 x Weber 48 IDA carburetors
1 x Holley C4AF 9510-DA (715 cfm) 4V
1 x Ford/Autolite C40F-9510-AL Carburetor (4 barrel) 4V
2 x Ford/Carter C4RA-9510-A & B carburetors (4 barrel) 4V
Ignition
Type of ignition, 1 x Ford C30F 12127 Coil distributor with 8 contacts
Ignition coils, 1 x Ford B6A-12029B or 1 x Ford FAC-12029A (Shelby)
Alternator, Ford C5AF 10300-D 12V, 42A max
Generator, Ford CMF 10300-D 15V, 42A max (Shelby)
Starter motor, Ford CZZ-11002-A or Ford C202-11002-A
Battery, 12V, 55/70 AH
Autolite BF-42 spark plugs
Hi-Po: BF-32 spark plugs
Firing order,
1-5-4-2-6-3-7-8
2 AC Carter or Stewart Warner mechanical/electrical fuel pumps, or 3 x Bendix electric fuel pumps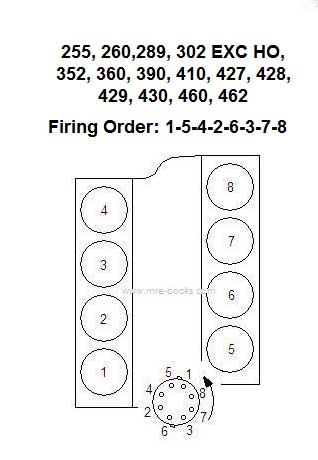 Source
Cooling and lubrication
Water cooled, 14.2-17 lt water capacity
Full flow filter
wet sump, 6.15-8 lt oil capacity
dry sump with oil cooler, oil capacity 11 lt
optional 1 oil cooler 1.3 lt capacity
Torque values
Click
here
Fastener Type Torque Spec
Main cap bolts 60-70 ft-lbs
Outer main cap bolts 35-40 ft-lbs.
Connecting rod bolts (40-45 ft-lbs. for 289 HP & Boss 302)
Cylinder head bolts 65-72 ft-lbs.
Rocker arms 17-23 ft-lbs.
Intake manifold bolts 23-25 ft-lbs
Oil pump bolt 23-28 ft-lbs.
Cam bolts 40-45 ft-lbs.
Cam thrust plate bolts 8-10 ft-lbs.
Harmonic damper bolts 70-90 ft-lbs.
Flywheel / flex-plate bolts 75-85 ft-lbs.
Pressure plate bolts 35 ft-lbs.
Front cover bolts 12-15 ft-lbs.
Source
Models used and Output
289K
| Year | Model, Engine | Induction | Compression ratio | Power | Torque |
| --- | --- | --- | --- | --- | --- |
| 1962 | Shelby Cobra | 4 x Weber 48 IDM | 11.6:1 | 360 bhp / 269 KW @ 6500 rpm | 432 Nm / 319 ft lbs @ 4000 rpm |
| 1963 | Lola Mk 6 GT | 4 x Weber 48 IDM | 12.0:1 | 400 bhp / 298 kW | 462 Nm / 341 ft lbs |
| 1963 | Shelby Cobra Daytona | 4 x Weber 48 IDM | 10.8:1 | 390 bhp / 291 KW @ 6750 rpm | 462 Nm / 341 ft lbs @ 4000 rpm |
| 1964 | Ford GT40 | 4 x Weber 48 IDA | 10.0:1 | 385 bhp / 287 kw @ 7000 rpm | 423 Nm / 312 ft lbs @ 5000 rpm |
| 1964 | Lotus 30 | 4 x Weber 48 IDM | 11.0:1 | 360 bhp / 269 KW @ 6500 rpm | 432 Nm / 319 ft lbs @ 4000 rpm |
| 1964 | Shelby Cobra | 4 x Weber 48 IDM | 10.8:1 | 390 bhp / 291 KW @ 6750 rpm | 462 Nm / 341 ft lbs @ 4000 rpm |
| 1964 | Ford Mustang I | | 12.0:1 | | |
| 1965 | Ford Mustang I Shelby | 1 x Holley 4150 (715 cfm) 4V | 11.5:1 | 350 HP @ 6750 rpm | 312 lb ft @ 3800 rpm |
| 1965 | Lola T70 | 4 x Weber 48 IDM | 10.8:1 | 390 bhp / 291 KW @ 6750 rpm | 462 Nm / 341 ft lbs @ 4000 rpm |
| 1965 | Lotus 19B | 4 x Weber 48 IDM | 11.6:1 | 360 bhp / 269 KW @ 6500 rpm | 432 Nm / 319 ft lbs @ 4000 rpm |
| 1965 | Maserati Tipo 64 | 4 x Weber 48 IDM | 11.6:1 | 360 bhp / 269 KW @ 6500 rpm | 432 Nm / 319 ft lbs @ 4000 rpm |
| 1968 | Ford GT40 | 4 x Weber 48 IDA | 10.6:1 | 425 bhp / 317 KW @ 6000 | 540 Nm / 398 ft lbs @ 4750 rpm |
Source
Source
Aluminium block 9.5" deck height
Source
Source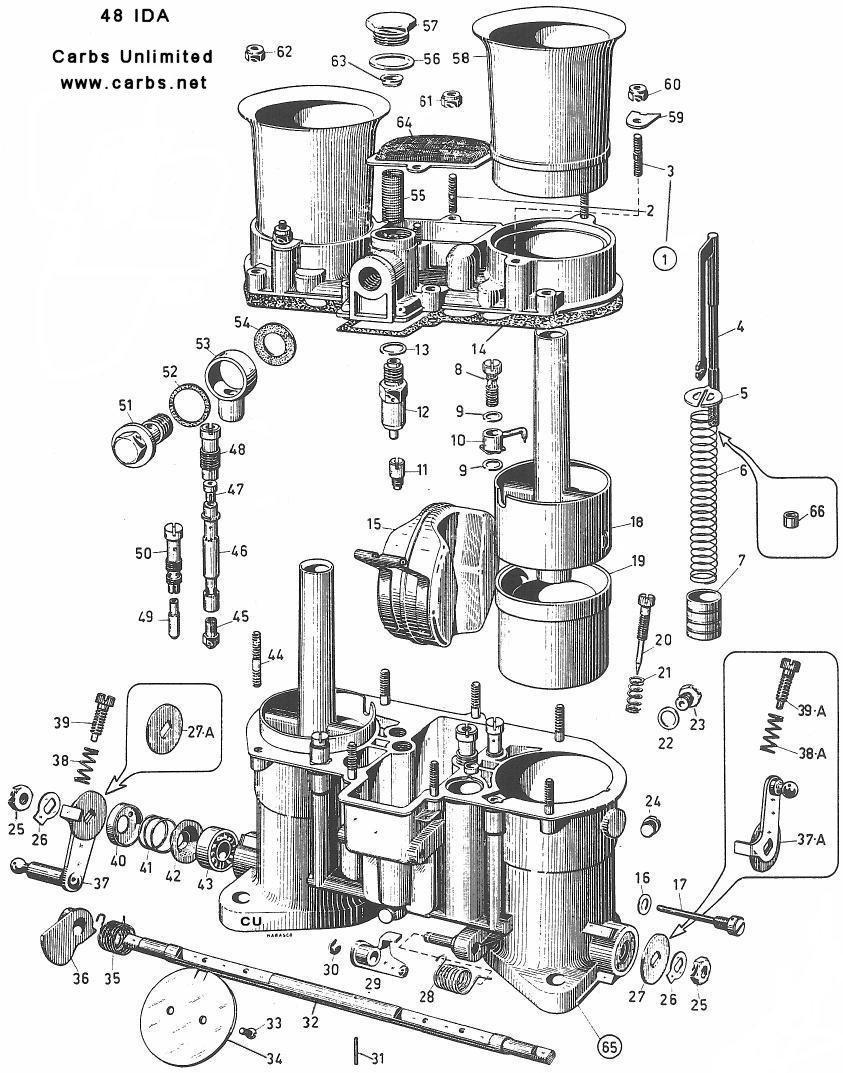 Source
page revision: 80, last edited:
28 Apr 2021 06:45