Ford Fiesta Mk I 1.6 group 2 (1977)
Home » Rally Cars » Ford Fiesta Mk I 1.6
Source
Since 1/10/1982, model name Ford Fiesta Mk I XR2
Specification
Group/Class
2
Homologation number: 1686, 5783 and transfer group A, and A5065
Years active
1977-1980
Homologation start: 1/5/1977, 1/2/1980 and 1/9/1982
Homologation end: 1/2/1980, 31/12/1981 and 31/12/1990
Engine
Type
Ford Kent Crossflow Α711Μ, straight 4 cyl, 4 stroke, petrol engine
located front transverse
Capacity
1599 cc
WRC: 1599 cc
Bore x Stroke (mm)
80.978 x 77.62
Compression ratio
8.6:1
Output power - torgue
160 bhp
Main bearings
cast steel crankshaft with 5 main bearings 54mm bearings diameter, big end bearing journal diameter 49.2mm
connecting rod length between centers 125.1mm, big end bearing tunnel diameter 52.9mm, aluminium alloy piston with top combustion chamber "bowls" and 44.2 mm compression height
Materials
block: Ford Kent cast iron thin wall 711M-6015-BA block with optional dry steel liners. 209mm deck height and 96mm bore spacing
cylinderhead: cross flow cast iron heron flat design
Cams/valves
1 side A6 Cosworth camshaft with overhead valves (OHV), chain driven
2 valves/cyl. - 8 valves total, 35.8 mm inlet valve diameter, 31.5mm exhaust valve diameter, 1 coil spring per valve
Aspiration
natural, 1 x Weber 32 DFTA carburetor
Ignition
Lucas or Luminition electronic, firing order 1-3-4-2
12 V
Cooling system
jacketed watercooled with pump, radiator, 278 mm diameter-4 blades fan and thermostat
6.2 lt
Lubrication system
wet sump, 1979: dry sump with 2 stage oil pump
3.25 lt
Transmission
Type
front wheel drive
ford BC4/5 transaxle, 4 speed manual gearbox
Gearbox ratios
1st: 3.58/1 (43/12)
2nd: 2.05/1 (41/20)
3rd: 1.30/1 (35/27)
4th: 0.88/1 (36/41)
R: 3.77/1 (49/13)
1st: 3.16/1 (38/12)
2nd: 2.20/1 (33/15)
3rd: 1.725/1 (31/18)
4th: 1.475/1 (28/19)
R: 3.77/1 (49/13)
Group 2: 1st: 2.84/1 (34/12)
2nd: 2.00/1 (32/16)
3rd: 1.55/1 (28/18)
4th: 1.30/1 (26/20)
R: 3.77/1 (49/13)
Diffrential ratio
3.579/1 (68/19), 3.357/1 (47/14). Group 2: 3.333/1 (70/21), 4.055/1 (73/18), 4.412/1 (75/17), 4.083/1 (49/12), 3.842/1 (73/19), 4.294/1 (73/17), 4.688/1 (75/16), 3.692/1 (48/13), 4.545/1 (50/11).
1980, group 2: 4.059/1 (69/17), 4.333/1 (52/12), 4.00/1 (56/14), 3.733/1 (56/15), 3.563/1 (57/16), 3.353/1 (57/17), 3.00/1 (57/19)
Ferguson parallel helical gears limited slip front differential
Clutch
dry, single plate, 190mm diameter
Chassis-body
Type
steel monocoque chassis with roll-cage. 3 door hatchback steel bodyshell with aluminium bumpers
Front suspension
Macpherson strut with 1 lower A wishbone, coil springs, telescopic shock absorbers and anti roll bar
Rear suspension
dead axle with 2 radius arms, panhard rod, coil springs and vertical shock absorbers
Steering system
rack and pinion (no servo)
18/1 ratio, 3.5 (or 3.2 group 2) turns lock to lock
Brakes
front solid disks 222mm diameter with 1 piston caliper 48 mm diameter. Rear drums 178/229mm diameter with 1 double piston caliper 15/17.5 mm diameter. Group 2: solid discs 267mm diameter or ventilated discs 249mm diameter with Lockheed CP2382 or CP2361 2 or 4 piston calipers 38mm diameter.
1979, group 2: front ventilated discs 267/260mm diameter, rear solid or ventilated discs 267/260/249/242mm diameter, Lockheed CP2578, or Girling AR4 or AR5
dual circuit with vacuum servo
Dimensions
length: 3.750 m (147.6")
width: 1.567 m (61.7")
height: 1.360 m (53.5")
wheelbase: 2.286 m (90")
front track: 1.334 m (52.5")
rear track: 1.321 m (52")
Rims - tires
4 or 4.5 x 12". 1980: 6J x 13"
155 SR 12
Weight
760 kg
Fuel tank
38 lt
Drag coefficient
0.43
Frontal area 1.77 sq.m
---
Results in WRC
Races
Works team: Ford Motor Co
Season
Entry
Rally event
Driver
Codriver
Team
MC
SVE
Entry list
KEN
POR
GRE
FIN
CAN
S.R
CdI
TdC
RAC
Benavent Alonso (1.3)
Deprado Alonso
dnf*
Pablo de Sousa
Luis Sanz
Ford Reverter Competicion
acci dent
Mark H. Jephcott
Tony Watson
Census Comp Centre
dnf
Statistics
Others starts/finishes
2/0
1/0
1/0
*Group 1 entries
---
Source
Roger Clark & Jim Porter's Ford Fiesta DHJ500T on the Monte Carlo '79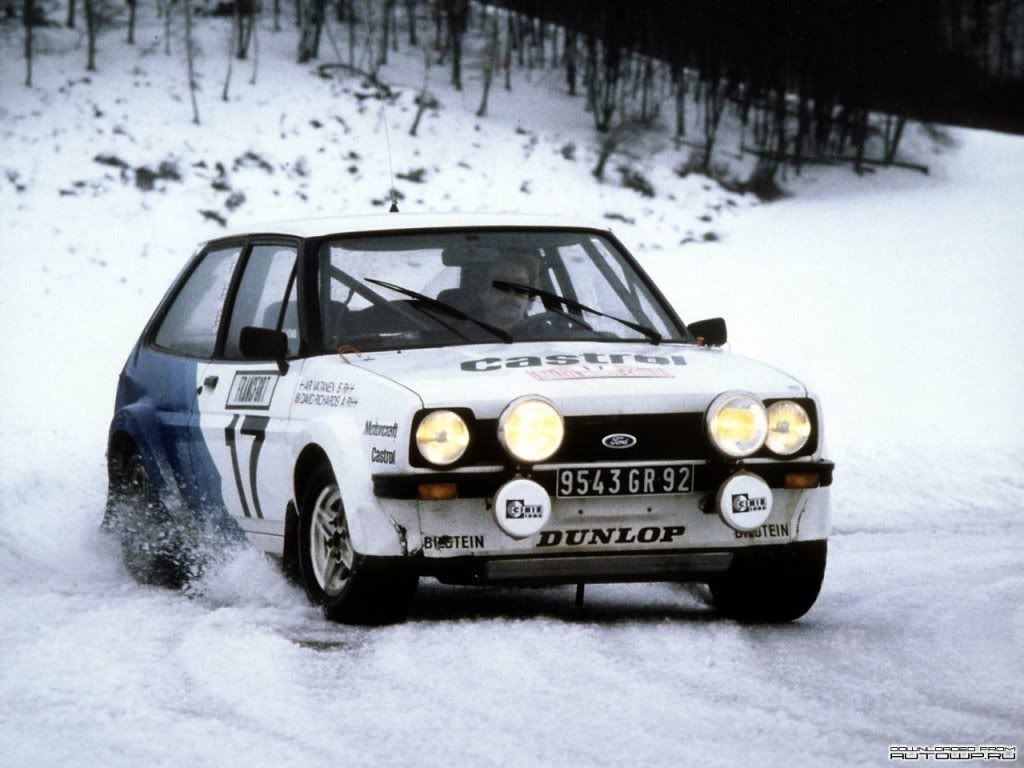 Source
Article from CARS & CONVERSIONS, 3/1979
Peter Newton gets acquainted with Ford's initial moves in front wheel drive competition development on the Fiesta
You might think that three seconds per kilometre is a considerable period of time for one rally car and driver combination to be extracting from another over an identical stretch of road. You'd be right. In this case however there are mitigating circumstances: like the essential inequality of the contestants, a 1600cc 120bhp pushrod Fiesta with a hack engine versus a 260bhp full house G4 works Escort in Monte Carlo Rally trim; like the fact that Ford Competition department's experimental Fiesta had never been out of England before, never been up a mountain pass before; never even been on snow before.
In 2½kms of a snowbound Turini in the closing days of 1978, the Fiesta dropped 10 seconds going uphill, and eight seconds going downhill with the company's three contracted Scandinavian rally drivers each taking turns at the wheel …. even the extremists among Fiesta sceptics, who numbered Walde-gaard and Mikkola among them, had to agree, the damn thing had potential!
Fiesta development, if that is the correct description, began in a very low key fashion some 16 months ago in response to the competition department's increasing realisation that Fiesta (and particularly FWD) rather than Cortina would represent the company's major future interests.
Fiesta, and its future stablemates locked deep within the walls of Dunton and Merkenich research and development departments, were the cars with a future, and thus the sooner something was found out about the competition feasibility of such a machine, the better. To be able to have answers to questions not yet even asked is to keep one's head above water. Since Boreham knew next to nothing about FWD in competition, save to regard it with considerable scepticism (hardly surprising in the light of Lancia and Saab's experience) there was no time like the present to find out some answers.
Besides, it was felt with considerable justification that should a marketing decision fall upon Cortina as the model with which to promote the marque through competition, then Boreham already had the "know-how" and Ford the instant hardware to make it a rapid runner despite a comparatively short gestation. All those 3.4 litre Essex block V6s etc would see to that.
All of the above should also be seen in the light of European motor-sport trends. Disregarding, for a moment, the ostrich-style posturing of Ballestre's naively idealistic CSI, it's clear to most of us equipped with logical thought processes that Europe's motor manufacturers should and will have a considerable share in the framing of regulations governing motorsport. Whether they achieve this end by civilised negotiation and compromise, or by high handed Ecclestone-style methods is largely irrelevant since the outcome will be the same.
It's also clear to most of us with a passing interest in motoring trends that the majority of Europe's motor manufacturers see their corporate futures lying in front wheel drive for all but the luxury executive end of the market. Modern technology, engineering and mass production skills have rendered FWD no more of a challenge than conventional cars of the recent past. FWD is now at least as reliable and efficient as RWD, and in terms of space saving and marketing, makes obvious sense. So sure are Europe's major manufacturers of the commercial necessity of FWD that they have staked a massive fortune on the success of certain long term projects.
The ranks include Europe's first true "Eurocar", the Fiesta, which is assembled in vast numbers at a new plant in Valencia, as well as being assembled in whole or part at Cologne, Dagenham, Saarlouis. Bordeaux and Wulfrath. In similar mould are Fiat's vitally important new Ritmo; the new generation Audis; VW Golfs; AlfaSuds, Renualt's ubiquitous R5, the Peugeot 104 etc etc.
All these models represent powerful companies which are to a greater or lesser extent keen to promote a youthful and aggressive image in the market place through direct product association. Under existing rules, current Group Two regulations provide a suitable way of joining in successfully at an acceptable cost.
These manufacturers are of course in a position to influence the new FIA Appendix J regulations due for 1982, but until then, Group Two rallying provides good exposure in return for comparatively minor modifications and hence outlay. Ford enjoy a great reputation for marketing and product planning; it's not unnatural that they should wish to be fully equipped to take advantage of a change in regulations, especially as one does not need a crystal ball to surmise that their small and medium car future lies in FWD along with GM (Opel) whose Kadett is being phased out this year; Vauxhall (eventually, after Opel); and Chrysler (presumably).
Other major manufacturers besides Leyland are already in the dining room, sitting down and eating; one would hesitate to be so bold as to suggest that Leyland even have a future. Perhaps if the company, either in the guise of JRT or Austin/Morris can hang on until 1981/2 when the desperately required LC10 replacement for the Allegro range, and/or the new Mini are alleged to be appearing, there may be a chance. Who knows.
Fiesta and group two (like R5, Ritmo etc and Group two) were an obvious combination from the outset. Anyone will tell you that to compete in Group One with a chance of success, you must have a very well homologated car and very well homologated cars take time to "create". Group two looked far more attractive.
Fiesta is sold in 1600cc form in the United States using a five main bearing Kent crossflow engine all but identical to that currently used in the Escort. Modifying it within the regulations was thus no problem at all, utilising old tuning equipment which has been tried and tested on hundreds of performance engines in the past. The engine project was thus delegated to the capable care of Brian Hart and these engines now give an impressively reliable 160 bhp on twin 45DCOE Weber induction and dry sump lubrication. Using the standard cast iron block and much modified but still cast iron head, a tuftrided iron crankshaft (on which no doubt more money has been spent than if steel were allowed) rolled journals, shot peened connecting rods, Cosworth rocker gear and an A6 Cosworth camshaft these essentially "old hat" engines present no engineering imponderables. Act One was thus a simple matter of commissioning the hard pressed Brian Hart to complete the necessary work to the letter of the regulations.
Low key the project was, and low key it still is, but Ford (and others) were greatly inspired by Renault's successes in G2 during 1978 with the diminutive R5. To finish the gruelling Bandama Rally so reliably and in such high overall placings suggested that small FWD cars could rapidly be made suitable for endurance rallying, and the French company's magnificent efforts on the '78 Monte Carlo Rally, where they finished second and third overall, prompted encouraging thoughts in the minds of the men at Boreham.
The story of how the 1979 G2 Monte Carlo rally Fiestas evolved is a story of sporadic high pressure development rather than continuous year-long work. There were many who felt that Fiesta was not the right way to go in competition, many who were openly critical, even in the department. Besides, Ford were at the time running a major programme in Britain and an occasional World Championship sortie in Europe with the Escort, so resources in terms of time and manpower were simply not available in the sort of quantities that would have allowed them to tackle the project alone.
That the venture has so far proved to be encouragingly successful is due in no small measure to the painstaking and patient detail design work of Len Bailey, the direction of John Griffiths (upon whose shoulders responsibility for the project eventually came to rest), the unquenchable enthusiasm of John Taylor who carried out almost all testing and development work on the car, the support of Haynes of Maidstone who undertook much of the initial workload; and to the research and development information readily available via Dunton, from whence throughout the project's gestation, came a continual flow of cooperation, encouragement and interest.
Knowing comparatively little about front wheel drive, it was logical to take the advice of a number of competitors, engineers, etc, with experience of trying to make the layout successful in competition. Three Fiestas were lent to Barry Lee, John Young and John Taylor with a view to accumulating data on the car in various different guises (none of which appeared, or were ever intended to appear, in competition) and at the outset, work started on development of the transmission.
Image 1. Monte Carlo rear suspension Incorporating 10½" ventilated disc brakes.
The essential problem of FWD in competition, and specifically rallying, surrounds the transmission. How does one make the car easy to drive and handle, light on the steering and with the minimum of "fight" while combining such desirable qualities with a suitably business-like LSD to endow the car with grip and traction in extremis?
It was expected that gearbox and driveshaft failures would also intervene at an early stage. Thus, Hewland were commissioned to develop a series of heavy duty close ratio. gearsets to fit the standard casing, and after a number of singularly unsuccessful test sessions with Hewland pawl-type differentials and the usual plate types (John Taylor: "I grew horns overnight!") Ferguson, the company responsible for major strides in four wheel drive and notably the commercially unsuccessful but technically impressive Jensen FF, were commissioned to develop a totally new differential which Boreham are most reluctant to discuss in detail and which no doubt is one of the major keys to the viceless behaviour of the competition car. A unit was required which did not lock-in and lock-out violently according to engine load (anyone who's driven a rally Mini with LSD will be only too aware of how alarmingly unpredictable, time-consuming and muscle-building such antics can be).
The unit also had to be very compact since the Fiesta differential fits inside the gearbox casing, in-line with -the east/west engine - it is scarcely bigger than an average size cup and saucer.
From a blank sheet of paper Ferguson designed a totally novel unit, described as a speed-sensitive rather than torque-sensitive device related to the speed differential between two output shafts. Two were made initially, being first tested at the end of July last year; six more arrived in time for the Monte Carlo Rally in January.
However, while all these various developments were taking place, John Taylor had begun testing with a car that was basically standard aside from the substitution of a 1700cc pushrod engine and the new Hewland gearset. With no prior experience of the car, spring and shock absorber settings were based on information gleaned (by hook or by crook) from Saab, Ley land, and Dunlop. Thirteen inch wheels were adopted immediately to enable the car to make use of all Dunlop's existing tyre moulds for this wheel size and also to aid accommodation and cooling of the much bigger brakes that would obviously be required.
From the outset it was obvious, in John Taylor's own words, that the thing "went round corners like sh . . off a shovel" and it became equally obvious that the tiny brakes (drums at the rear) were totally inadequate for competition. Secure location of the engine also proved to be vital (subsequently further modified), and the lower ball joints on the front suspension required immediate strengthening.
John Taylor's patient and objective assessments of the car began to reveal the critical nature of ride height, the need for negative camber on the front wheels and the favourable response to the use of convex tyres (ie: the rallycross A4 type as opposed to the flat tread and vertical side wan of the A2).
On June 26th last year, the development car, incorporating some of the lessons so far learnt, plus a prototype of the G2 front suspension put together by Len Bailey, took its first bow courtesy of John Taylor.
Front suspension arrangements along with transmission modifications were obviously the critical areas, the secret of ease of control being provided by correct geometry; exactly the right wheel offset combined with "negative scrub steering".
Image 2. Boreham's Paul Chopping completes the final pre-installation Induction adjustments on the Kent pushrod engine.
To achieve the correct solution, a specially reinforced wide-based triangulated wishbone assembly was designed. These tubular "wheel location arms" which replaced the standard bottom arms, together with new aluminium uprights, front hubs, uprated ' bearing assemblies, and carriers plus a new front anti-roll bar with revised support brackets are a pleasure for an engineer, or anyone with some appreciation of mechanical finesse, to behold.
Heavy duty ventilated disc brakes of 266.7mm (10.5") diameter and 20.6mm (0.81") width with four po' calipers complete the picture at the front; while at the rear, smaller sized ventilated discs adorn the dead axle, accompanied by a hydraulic/mechanical handbrake caliper - all G2, of course!
Fiesta rear suspension is comprehensive, even in standard form, employing radius arms and a Panhard Rod. G2 modifications have included reinforcement of the axle, uprated wheel bearings and hubs, additional brackets for the disc brake calipers (two pot variety) and tubular radius rods located by the familiar rose joint/heavy duty bush arrangement seen on Escorts for many years.
This then was the basis of Ford's G2 Fiesta chassis package for Monte Carlo.
Hitherto, the car had used the standard)!) short but equal length driveshafts without trouble (until the ride height was raised) but the advent of Len Bailey's new suspension package called for the substitution of the short auxiliary shaft and its attendant steady bearing with one long driveshaft, giving vastly unequal driveshaft lengths. No one knew whether such an apparently lop-sided arrangement would pose problems, but it certainly saved weight and complication. Testing proved the sceptics wrong once again.
By August, John Taylor in the hack development car, had already succeeded in lapping a one mile quarry near Maidstone within one second of his Burmah Rally RStSOO's best time. Bumpsteer was providing him with plenty of work at the wheel, but since at that time the car was shod with six inch rim Escort wheels of incorrect offset, there seemed little cause for panic. However, the triangulated wishbone arrangement was redesigned, and just prior to Ford's shutdown strike, the revised wishbones and correct offset wheels met on the same chassis for the first time.
Roger Clark was then introduced to Fiesta at a testing venue near Grantham. He brought with him his ex-Cyprus rally-winning RS1800 and failed to approach John's Fiesta stage time in the Escort, albeit in very bad weather. However, the former was now suffering severe bumpsteer and the new high ratio rack was thought to be the cause. Time was running out… a decision on Monte Carlo looming.
John's hard worked hack was summarily cannibalised and rebuilt into a Monte specification car in order that testing miles should be accumulated on a full G2 package. Bumpsteer was once again proving to be a major stumbling block although in other respects the little car was showing enormous potential.
The problem was eventually solved thanks to a decision taken back in April (and not completely implemented until the beginning of December) to build a BDA powered version of Fiesta as a test bed in ' order to deliberately overtax components and discover weak links in the power train. The car was completed using a 1700 iron block/alloy head arrangement (primarily to save time) and produced a creditable 225bhp.
This ferocious beast, equipped with the G2 "kit" was taken to MIRA and in the course of setting some tarmac lap times which some other British rally teams would be truly horrified to discover, the trouble was pinpointed. Raising the ride height, which was required anyway, transformed a niggling fault with which it was possible to live, into a 225bhp driver's nightmare. The car became virtually uncontrollable and the new high ratio steering rack plus insufficiently rigid engine mountings (the latter allowing the BDA to move about in the chassis giving rise to "torque steer") contributed to the situation.
Image 3. Since the cutaway diagram (end of page) was drawn, the fuel tank has been relocated In a neatly double glazed and fire-proofed "boot". Note the wide based triangulated wishbones below the front uprights
After an all-night session back at Boreham, Ari and Roger drove the car the following day, the former on his first acquaintance with it - both were highly impressed, describing the effort required to drive it (this with 225bhp remember) as no more than that of a 1300cc road car!
John Taylor describes the machine as an F1 car compared with an Escort: "it's very sensitive to change in all departments; either springs, shock absorbers, roll bars, toe in, toe out …. 10 pounds on the spring rate changes the handling characteristics completely, but it's comparatively easy to tell what's happening and your diagnosis is more often than not confirmed on the stop watch.
"If you wind on too much lock, you simply kill the car's speed; you can't drive it like an Escort; chucking it about doesn't help at all. You must drive it round corners, get it to turn in early - very unspectacular really, but very quick!
"Yes, I've learnt to left foot brake …." a wry smile …. "it certainly helps!"
What in fact had been achieved was this: in the space of six months since the first near-standard prototype had turned a wheel, Boreham and friends had succeeded in developing a 1600cc pushrod Fiesta to the point where it was as quick on loose or tarmac surfaces as a forest specification G4 RS1800 - a feat which even the men involved initially found hard to believe.
Gradually the mental barriers built up against Fiesta were beginning to crumble. One can't imagine such a project being handled so successfully by any other motorsport department in the country, and when one has witnessed the superb detail work of the car at close quarters, one's admiration and respect for the engineer/mechanics who work at Boreham is further enhanced.
When the time factor is considered in relation to the activities of the department during this period, and the damaging effect of the Ford strike, it's difficult not to be impressed.
So why does Fiesta apparently work so well, where others before it have failed? One reason must surely have something to do with weight. Fiesta's homologated weight in G2 is just 775kgs, a figure that John Griffiths feels confident of achieving, given a little more time. Monte Carlo rally cars nevertheless still weighed-in at an impressive 810 kilos (1782 Ibs) giving a power to weight ratio of 201 bhp per ton; very similar to a forest Escort.
The weight bias works out at about 57 percent front, 43 percent rear; again similar, though more pronounced, than that of the Escort. Weight distribution is very much of an experimental area at present; John Griffiths adopting the common-sense maxim that if you mount as much weight forward as possible, then it is much easier to move items to the rear rather than vice versa should redistribution prove necessary.
Experimental areas abound. Ford left for the Monte with very limited information on differential oil temperatures; would the gearbox require a cooler? There had also been next to no time to prepare the car for ease of servicing. No one knew exactly how long it would take to change the gearbox/differential unit (which demands removal of the sump guard and the wishbones) under rally conditions; or indeed when and where such an operation might be necessary. Monte Carlo, then, was very much of a gamble for Boreham, but one which Peter Ashcroft felt fully justified in taking. As he says, "By RAC time, we shall have some of the answers."
Monte Carlo Fiestas eventually used modified G4 Escort pedal boxes after initially using revised Fiesta types. It is hoped to revert to modified Fiesta versions as soon as more time is available for development.
The standard of workmanship on the rally car (Ari's was built in Germany) was as one would expect from Boreham - exceptionally high. The way in which the department have sidestepped the hatchback's indigenous firewall sealing problem by moving the petrol tank to the rear along with the engine oil tank and double glazing the rear window with the addition of an extra bulkhead is very neat.
This year, with Roger Clark driving the G2 1600cc car on Sedan Products Internationals and John Taylor expected to be shaking up Castrol/Autosport crowd with a G5 BDA version, Fiesta will certainly be in the news.
Most of us said it wouldn't work when the idea was first mooted, and obviously there must be a limit to how much power can be transmitted to wheels that are also being steered …. but if that limit has not been found at 225bhp, then where the hell is it!?
Peter Ashcroft confidently expects to be able to homologate an all-alloy two litre BDA version in G4 if necessary …. to quote an opposition jingle, Ford Fiestas are being "built to win you over".
Article from CARS & CONVERSIONS, 6/1981: Fiesta competition
In this the first instalment of how we transformed our 'Concept' Fiesta from a roadster into a racer to compete in our own championship, John Pearson tells how the roll cage, racing seat, harness and other safety equipment were fitted. We also uprated the front and rear suspension …
AS WE TOLD YOU last month, the Popular Motoring team had just 20 days to transform our 'Concept' Fiesta into a racer to compete in our own series.
That could have been plenty of time if we were a professional racing team, but as we've got a mag to get out as well it meant that Staff Rotter Terry Gray, a couple of lads from our local Ford dealer, Peterborough Motors, and your truly did more than a few hours overtime.
We'll hopefully be giving a blow-by-blow account of the trials and tribulations of a novice racing team in the next couple of months, but the following tells what we did to the Fiesta whiie the power unit was down at Minister Racing Engines being breathed upon and having assorted go-faster spells cast over it.
Actually, the engine has to be bog-standard but Minister 'blueprinted' and carefully put it together for us, as we'll show in a future issue. The engine's got to be in first class condition in a one-make series where all cars are just about the same. Every brake horsepower counts.
First job for the team while secretary Jackie was transporting the load of engine bits down to Minister's Dartford base was to jack up the Fiesta ready for all the competition suspension bits to be bolted on.
Suspension
We'd only uprated the suspension a couple of months back for fast road use, so it was a bit of a bind having to change it all again. Still, at least we knew where everything went.
Ride height for the series is free, as is the choice of springs, but the carefully worded regulations specify (as you'll see over to the right) the use of Bilstein units - Ford finis code 9054541 - on the front and 9054288 on the rear, using standard mounting points.
Also, the listed measurements keep the ride height reasonable. This all means the more wealthy competitors can't buy an advantage by using trick suspension bits, and you don't get really low cars in the series scraping their undersides on the ground.
We used Ford Rallye Sport competition springs on the front (part number 9054289) with approximately an inch cut off them to give the desired ride height.
On the rear we used 9054414 springs, although we've since found these to be a bit high, so 'ace' Gray will be hacking a bit off them to bring our car down to the same level, so to speak, as most others in the series.
Spring rates and ride height seem to be very much a matter of personal preference, and most competitors have experimented to get 'their' settings.
| | |
| --- | --- |
| | |
| Image 1 Fiesta front units are simple enough to remove and refit. There's just two bolts at the top and two at the bottom. | Image 2 Once out the unit can be stripped by compressing spring and undoing top nut. Only top plate and assembly are needed. |
| | |
| Image 3 New front spring needs compressing during assembly to allow top plate to be fitted and nut tightened. | Image 4 Upper bolts are retained but this lower one needs to be longer to go through camber adjusting nuts. |
| | |
| Image 5 Access to rear shock absorber top securing nut is gained from inside boot. You might need to grip shaft to stop it turning. | Image 6 Bottom bolt also secures rear anti-roll bar bracket to axle. Make sure bracket is right way round when refitting |
| | |
| Image 7 When dampers, brackets and exhaust have been disconnected the axle can be lowered and spring lifted out. | Image 8 Locate top of damper first when refitting then give this locating pin a smear of rubber grease before sliding arm over. |
Our picture strip on these pages shows how the suspension was fitted. Of course, this job doesn't just apply to competition Fiestas, the procedure for changing the units and springs is just the same if they are 'cooking' Motorcraft units or whatever-It looked initially as if the fronts would be the hardest to swop, but they turned out to be the easiest, with only two botts at the top and two at the bottom holding the complete assembly in place.
The rear springs can be removed after disconnecting the dampers, but you have to drop the axle a fair way, which also means disconnecting the exhaust pipe.
Geometry
We made what you might calf a bit of a balls up of the steering and suspension geometry before the Brands Hatch race on April 15th, as you'll find out in the full story, but at least it proved to us the value of getting it set up right.
Chatting to different drivers and team mechanics, it seems that there's no 'optimum' setting for castor, camber and toe-in, with different people using different settings, depending on the conditions. Either that or they didn't want to give away their secrets.
Of course, we couldn't initially adjust any of these until the engine was in position (the weight affects things).
The Fiesta's track is adjusted as on most cars by shortening or lengthening the track rods. These are threaded and screw in and out of the track rod ends.
Camber adjustment is not possible on the standard Fiesta, but the uprated Bilstein unite have an adjustment facility by virtue of two eccentric nuts mounted in the upper of the two lower front suspension mounting bolts.
Neither is castor adjustment possible on the standard model, but this is facilitated by the modification listed below.
Chassis
All cars have to be fitted with Ford's heavy-duty suspension kit - 9054311. This includes stronger tie bars with previously mentioned castor adjustments facility and a front anti-roll bar.
It also has built-in anti-dive, which basically adjusts the geometry under braking, and stops the front of the car scraping the ground when anchoring up hard for Druids at Brands or whatever.
Actually, this is a good idea for a fast road car as well as a pukka racer.
Brakes
Front
Front brakes used on ail cars in the series are the Ford large diameter brake disc kit we showed how to fit in the April issue.
Image 9 We used Ford competition pads (9054262) for the first couple of races, but will be experimenting with some Ferodo DS11 pads some time in the future.
Rear
Standard diameter rear brake drums must be used, although lining material can be changed if required.
We originally used the standard lining material on someone's advice (I wish I could remember who), but these were grabbing in the wet at Snetterton, causing the rear to lock up - and contributed to one of my spins.
We've now been advised to use competition linings on the rear, which should hopefully solve the problem.
Brake backing plates front and rear can be deformed to aid cooling, although no material must be added or removed to make air scoops or whatever. As yet we've had no overheating problems.
Wheels
Tyres
Getting the right choice of tyres on a competition car can make the difference between winning and being an also-ran in many classes. Popular Motoring Championship runners, however, are fortunate that only one tyre - Kleber 10/20-13 FS CM 25 - can be used. Can't be bad.
Rims
Only aluminium alloy 13 inch diameter 6J wheels with 108mm offset from mounting face to inner extremity of rim are permissible. It just so happens that Ford Rallye Sport wheels (9053556) conform to these specifications quite nicely.
Steering
No trick, high geared steering racks in our series. The steering gear must have 3.2 turns from lock to lock, as on the standard car.
Body
First job inside the car was to rip out seats, carpets, roof lining, soundproofing material and anything else not functional and/or likely to burn in the (hopefully unlikely} event of a fire……
Roll cage
We then bolted in a Ford Rallye Sport roll cage, as shown in our drawing. This really does give the driver all-round protection in a major shunt.
Image 10 Our Fiesta's gutled interior with just roll cage bolted in. Seat, harness and electrics cut-out were added laterTo cut a long story short, the roll cage complies with RAC safety regulations 1(a), 1(b), 1(c), 1(h), 1(i) and 1(j) in the 1981 Motor Sport Year Book.
This book, incidentally, is supplied to ail RAC licence holders, and should be studied carefuily. Because, not only does the car have to conform with the Fiesta Championship regulations, but all the appropriate RAC ones as well.
Image 11 The drawing shows mounting points of our Ford Rally Sport roll cage. Driver is well protected, as you can see
Seat
A Ford Competition seat was carefully and securely bolted in position on a couple of strong pieces of steel previously welded to the Fiesta's floor.
Racers who've been involved in major shunts tell me that a secure driver's seat is very important.
It's no use being protected by a strong roll cage if the seat ts going to pull away from its mountings and allow you to move around like a pea in a whistle during a major 'happening'.
Not only did we weld the steel brackets to the floor, but double welded the panel sections they were secured to.
Factory spot welds may be all right for normal road use, but it's better to be safe than sorry if you're fast approaching a steel barrier backwards, sideways or whatever.
Harness
So the seat has to be secure, but the driver also has to be strapped in with a four fixing point harness (or three point with a symmetrical fixing for the two shoulder straps).
We used a Britax harness, which was, bolted to the Fiesta's two existing floor mounting points and one at the rear previously used by the rear seat belts.
Electrics
All competition cars have to be fitted with an electrics cut-out, which can be operated by the driver from inside or a marshal from the outside.
Our picture shows an Autolec Battery Master Switch fitted in a neat bracket to the Fiesta. This device not only isolates the battery if the lever is turned, but cuts out the ignition and charging systems as well.
That's inside, but how do you fix it to be operated from the outside? Simple really, just secure a choke cable with the knob in the required position in front of the screen to run through and be attached to the handle inside. It works.
Image 12 The vital Autolec electrics cut-out; in the event of a shunt everything can be switched off either by driver or a marshal.
Battery
Still on the subject of the battery, this has to have an additional mounting to hold it securely in place (a battery floating around the car can be rather nasty), and have an insulated cover. We used one of these from a Lancia.
Fire extinguisher
The regulations call for at least a 3.3lb BCF or BTM fire extinguisher, mounted within reach of the driver.
We attached ours to the Fiesta's roll cage by securing the bracket with a couple of strong hose clips.
Fuel tank
Last job on the actual body was the fuel tank. The standard one, which bolts under the rear floor, must be retained, but covered with 5mm of glassfibre or fire-proofing material. We used glassfibre, but it was a helluva messy job slapping it on the night before the race. Terry Gray's fingers are still stuck together.
Drawings
Source
Source
page revision: 139, last edited:
17 Jul 2019 17:51